C64 game of the day : Spy Vs Spy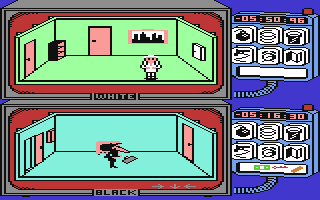 Spy vs. Spy was a game first published by First Star Software in 1984 for the Atari 8-bit family, Commodore 64 and Apple II computers. It was an innovative two-player, split-screen game, based on MAD Magazine's long running cartoon strip, Spy vs. Spy, about the slapstick antics of two spies trying to kill each other with improbably complex and elaborate traps and weapons.

It was later ported to a much wider range of platforms including the ZX Spectrum, Acorn Electron, Atari ST, BBC Micro, Commodore 16, MSX, Amstrad CPC, Amiga, Master System, Game Boy, xbox, Game Boy Color and Nintendo Entertainment System, which was emulated to the Game Boy Advance. The NES version will be re-released on the Wii's Virtual Console in Europe in the near future.

Two sequels followed.

It is perhaps the first video game to implement split-screen simultaneous two-player gameplay, as it was commercially released before Pitstop II, another early video game with a similar split-screen display.
The game takes part in a embassy and you are going to collect four diffrent items, and the escape in a airplane. There is a easy way to beat the oponent whitout having to do so much. Just put traps to every door into the finalroom (which the oponent has to pass to clear the game, and then collect all the items again)
Click here to play Spy Vs Spy online