Joe Frazier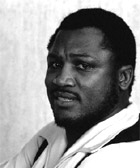 Joseph William "Joe" Frazier, born January 12, 1944, also known as Smokin' Joe, and is the Undisputed World Heavyweight boxing champion, and a former Olympic. His professional career lasted from 1965 to 1976, with a brief comeback in 1981.
Frazier rised to become the top contender in the late 1960s, defeating the likes of Jerry Quarry, Oscar Bonavena, Buster Mathis, Eddie Machen, Doug Jones, George Chuvalo and Jimmy Ellis to become the undisputed heavyweight champion in 1970, and followed up by defeating Muhammad Ali on points in the highly-anticipated "Fight of the Century" in 1971.
According to Frazier's agent, Frazier was diagnosed with liver cancer in late September 2011. The agent told the Associated Press that Frazier is seriously ill and under hospice care.